At Sonic, we appreciate the value of hearing and seek to help people find the greatest enjoyment from it. We envision a world where all people can enjoy the sounds that enrich everyday life.
Sonic seeks to fulfill this mission by putting into practice our corporate values. These guiding principles help us focus on real needs—and create solutions users are looking for.
Our creative approach results in stylish, easy-to-use instruments that provide outside-the-box solutions
We are energetic in applying technologies and features that help enhance sound quality and promote better speech understanding.
We are dedicated to delivering positive experiences and reliable products to customers
Sonic is a US-based manufacturer of hearing care solutions that provide exceptional patient benefit, unparalleled service, and superior quality. In conjunction with its distributor partners, Sonic Innovations has provided more than 1 million hearing instruments to patients in more than 25 countries.
Sonic products are renowned for their superior sound processing, noise reduction, directional capabilities, and award-winning design. Since November 2010, Sonic is a wholly owned subsidiary of William Demant Holding.
William Demant is a leading international health care company within Hearing Instruments, Hearing Implants, Diagnostic Instruments and Personal Communication.
The William Demant Group develops, manufactures and sells products and equipment designed to aid the hearing and communication of individuals. The Group focuses on four business activities: Hearing Devices, Hearing Implants, Diagnostic Instruments and Personal Communication. Group companies collaborate in many areas and to a wide extent also share resources and technologies. Sennheiser Communications is a joint venture and is no longer pro rata consolidated into the Group's financial statements.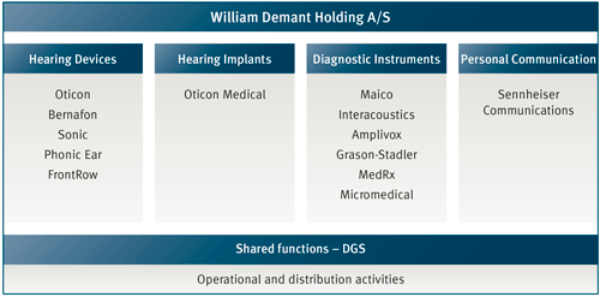 Mission Statement
The William Demant Holding Group of international companies develops, manufactures and sells innovative and high-technology solutions incorporating micro-electronics, micro-mechanics, wireless technology, software and audiology. The Group operates in a global market. Its core business is hearing aids.
All Group companies work closely together in the early links of the value chain such as purchasing and production. In the R&D, marketing and sales links of the value chain, with their particular focus on markets and customers, each unit has its own organisation and unique identity.
The Group aims to become the customers' preferred supplier of state-of-the-art quality solutions and thus create a platform for continued organic growth. It strives to meet user needs by maintaining a high innovative level and constantly expanding its global infrastructure.
The Group plays a role in overall structural changes by acquiring enterprises in existing core and related businesses. Through such acquisitions, the Group will capitalise on its technological and audiological expertise, managerial competencies and financial resources to create further growth.
The Group endeavours to increase its value through continued growth in revenues and results.
All Group companies seek to promote a stimulating and rewarding working environment through a flexible, knowledge-based organisational structure. Moreover, the Group is committed to high standards of ethics, quality and fairness and is dedicated to meeting its environmental and social responsibilities.
Group
The William Demant Holding Group operates globally through our three business activities.
Corporate Headquarters
Sonic Innovations Inc.
2501 Cottontail Lane
Somerset, NJ 08873
USA
International Headquarters
Sonic AG
Morgenstrasse 131B
3018 Bern
Switzerland
AUDIO BM slušni centri smo pogodbeni dobavitelj ZZZS - Zavoda za zdravstveno zavarovanje Slovenije.
Za slušne aparate sprejemamo naročilnice iz vseh ORL ambulant. Izbira dobavitelja je vaša prosta izbira. Pred odločitvijo za slušni aparat, preverite in preizkusite tudi našo ponudbo.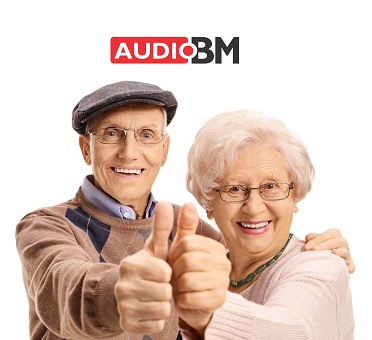 Številne stranke potrjujejo našo predanost pri nudenju pomoči, da boste spet bolje slišali - in živeli.
V AUDIO BM svoje delo opravljamo strokovno in s srcem. Zagotavljamo odlične storitve in najnovejše modele slušnih aparatov za vse potrebe in za vse generacije - tudi v cenovnem standardu (brez doplačil).
ZASTOPAMO PRIZNANE IN PREVERJENE BLAGOVNE ZNAMKE
V SKRBI ZA VAŠ SLUH NUDIMO TUDI: